CPC Training for Drivers at Griffin Toilet Hire who hold a licence to drive a lorry is a mandatory training order from DVSA.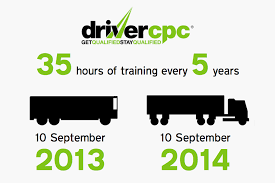 Drivers must complete 35 hours of periodic training every 5 years to keep their Driver Certificate of Professional Competence (CPC) to drive a lorry, bus or coach. It is mandated by EU law (Directive 2003/59) and is designed to improve the knowledge and skills of drivers, as well as enhancing safety on our roads.
We put all relevant drivers through each CPC course when needed to ensure they are kept up to date with the DVSA requirements.
Courses taken by our team this year so far have included; 1st Aid, Defensive Driving, Heath & Safety, Tacho Rules and Vehicle Checks.
Griffin Toilet Hire provide training via local training service providers or by having a registered trainer come to our place of work.
Reasons Why CPC is Important
DVLA CPC keeps driver's competent in their job role. In the 35 hours that a driver must uptake every 5 years, they get taught both theoretical and practical skills. This includes new rules and regulations that they may have been unaware of previously. Another advantage that extends from this is there is less risk that as a driver they will be involved in any law breaking on the road as they will be fully aware of what they are/aren't allowed to do.
There a number of business benefits to people who may own a fleet or drive for themselves including lower insurance premiums, increase fuel economy and higher retention when driving. Most importantly there will be less maintenance required to vehicles as Driver's driving habits are reviewed by the CPC trainers and any problems that may be causing damage to a vehicle are resolved on the course.
Sharing your Driver CPC Qualification with potential or existing employers shows that you are performing to the right standards. The difference in reliability between someone who has passed CPC Training and another who hasn't undertaken any can only be judged on the qualifications they have received for their driving.
Deadlines for driver training are shown on the drivers card so every driver has to be responsible for giving us a copy and updating us as to their next training need. We keep all records on file and copies of certificates.